Fully Networked Gameplay All Samples Support Crossplay
Our samples give you pre-networked gameplays, which contains best practices. Start your project with a solid foundation to get creative.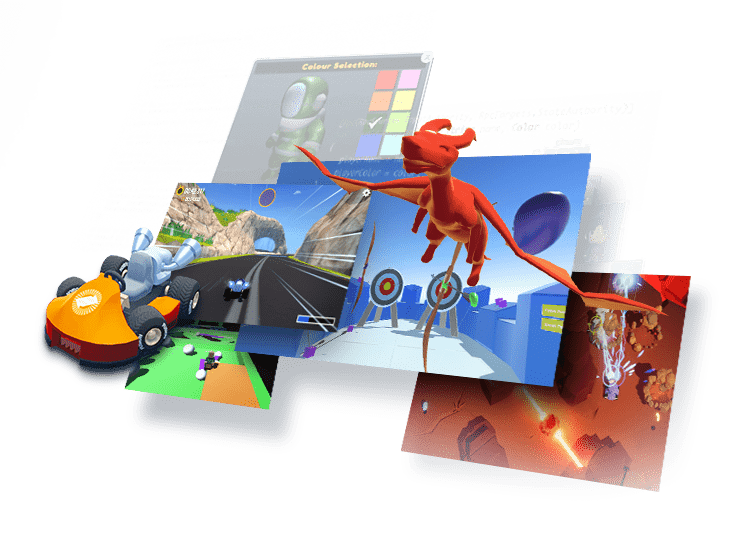 Photon Fusion makes it simple to develop AAA Multiplayer games by supporting high-tick rate accurate state replication.
free

BR200

Battle Royale 200 is the first complete end-to-end Multiplayer asset matching 200 players in one room at 60hz with weapon systems and game modes.

free

Tanknarok

The Fusion Tanknarok predictive network system illustrates how to build a fully synchronised arena-style game in a complete game loop. 4 players

free

Karts

Fusion Karts demonstrates how to make a cross-platform racing game with two tracks and three varying karts. Complete game loop. 4 players

free

Razor Madness

Fuzion Razor Madness 2D racing game is a fast-paced, fully predicted physics game made for 8+ players.

free

Dragon Hunter VR

Fusion Dragonhunters VR bow and arrow gameplay come with Voice communication, predictive spawning, scorekeeping and OpenXR support.

free

Impostor

Fusion Impostor use voice in the lobby and in-game for 10 players to complete tasks. The gameloop and objects state are fully networked for shared interactions.

free

Asteroid

Asteroid is our simplest sample showcasing the basis of movement, spawning objects and more.

circle

Expo

100 users/players talking on an expo floor in private or open chat. With 3D pen and whiteboards, this sample is the foundation for collaboration.

Photon Fusion E-Sport grade deterministic engine leads with zero lag, no netcode and having everything 100% in sync.
circle

Arcade Racing

Fast-paced, fully networked Arcade Racing includes four different cars and races in a large city. The AI enables PvEvP with bots.

circle

2D Shooter-Blueless

Blueless is a fast and action-packed online 2D platform shooter including various weapons types and a character controller

circle

8 Ball Pool

8 Ball Pool implements the main features of an online PvP Pool game. The turn-based gameplay uses shape cast to predict stroke collision.

circle

Rogue MOBA

Rogue MOBA is a 3v3 cross-platform fast-paced, team-based MOBA. Wave-based minions and NPC spawners with six unique heroes and twelve distinctive abilities.

circle

Auto Chess

Auto Chess gameplay works in eight players or four teams of two. Ranged units, merging units for an upgrade, unit movement and targeting interactions.

circle

Chess

The ultimate PvP sample for Chess. All the core elements of a chess gameplay. Indicators for all the moves, king check and EnPassant verification.

circle

Soccer

Our 2.5D Soccer sample integrates a 2D Top-Down Kinematic Character Controller, Custom Lobby with automatic opponent search and custom ball simulation.

circle

Traktor Snake

Traktor Snake implements smooth chain movement with ring buffers for the trail. All operations are very efficient and designed with mobile in mind.

circle

Twin Stick Shooter

Twin Stick Shooter showcases AI systems to provide team strategy, data-driven AI Sensors and Habilities architecture and much more.

circle

Vehicle Physics

Vehicle Physics is a fully networked vehicle ready to be used.

circle

Golf

Golf Template is a two-player turn-based mini-golf game and implements several turn-based features with an accurate turn control system.

circle

Fighting

Our two-player Fighting Template includes a tick-accurate animation system using Custom Animator for animation states and a HitBox editor.

circle

Side Scroller

Side Scroller uses a Deterministic in-simulation Map generator, multiple gadgets picked up from chests and three different environments.

circle

Tower Rush

Tower Rush tower defence game mechanics includes nine units with different types of damage and area of effects.
Fully Networked Gameplay All Samples Support Crossplay
Accelerate your development and take your project to the next level. Your Gaming Circle membership provides all the tools and support needed to create and launch successful multiplayer games in record time.